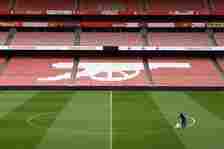 According to journalist Charlie Haffenden, Arsenal will make a £75m bid to sign Brighton midfielder Moises Caicedo. Haffenden said in principle, "Understand Arsenal will lodge a new bid for Moises Caicedo, similar to the £75m package rejected in January." He goes on to say that Brighton are open to negotiate.
However, fear remains that Arsenal are always relaxed to break the banks for players in the market and any team can hijack the deal.
The latest news from Chelsea Dodgers suggest that The Blues are leading the race over Arsenal in Caicedo's deal. Dodger's report, "Moisés Caicedo has not agreed personal terms with anyone; he is considering options, and Chelsea are 100% in the race, while Arsenal's interest remains alongside that of Manchester United."
"Chelsea is convinced he's perfect for their ideas. I heard from sources that the price will be £70–80 million, not £100 million, because of a pact between Caicedo and De Zerbi. He wants a new opportunity, and Chelsea is leading the race."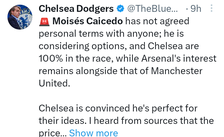 In addition, Fabrizio Romano also declined rumours related bid preparation with the Gunners for Caicedo. He said, "Arsenal are not preparing any bid for Moises Caicedo for now. They appreciate the player but full focus on Declan Rice, bid coming in next days. Chelsea, 100% in the race for Caicedo. They will be there til the end."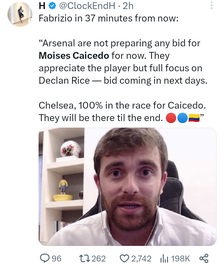 Follow for trending updates. Thanks.