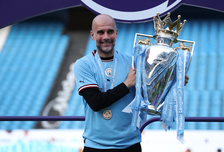 Make no mistake, the Champions League trophy is the one Pep Guardiola and Manchester City want more than any other.
Preparation for the match at Istanbul's Ataturk Stadium has been low-key. Once again, as before the FA Cup final, Pep Guardiola gave his players time off and started training on Tuesday.
Cool, calm and collected. That is Pep's way of preparing for this epic match. It is likely the same eleven players will again take the field in Istanbul.
Training was relaxed and there was a special moment when Arsenal legend Thierry Henry visited the players. He talked with Guardiola and greeted everyone when they finished training. ­­
The Premier League champions and FA Cup holders face their biggest challenge on Saturday evening when they take on Inter Milan.
Inter finished third in Serie A this season and won the Coppa Italia. They beat Porto, Benfica and AC Milan to reach the Champions League final. In training this week, both Henrikh Mkhitaryan and Milan Skriniar, who was on the bench at the weekend against Torino, came through tough sessions and are expected to be fit.
Forward Joaquin Correa will probably miss the match after picking up a calf injury in the Coppa final over Fiorentina on May 24.
Likely team is Andre Onana, Skriniar, Francesco Acerbi, Alessandro Bastoni, Denzel Dumfries, Nicolo Barella, Hakan Calhanoglu, Marcelo Brozovic, Federico Dimarco, Edin Dzeko (or Romelu Lukaku) and Martinez. Despite reaching 37, Edin Dzeko is a danger man up front alongside Lautaro Martinez.
City will start as favourites but Inter's strategy will be to slow the game down, be difficult to break down and play deep, very aggressively and playing long balls, trying to draw fouls from City's midfield. We must not forget that Inter came through a group which included both Bayern Munich and Barcelona.
Inter have their free kick specialists in Calhanoglou, Dzeko and Martinez. Corner kicks will provide their big players Acerbi, Bastoni, Dzeko and Lukaku with opportunities in the box.
Midfielder Rodri says City are more mature than the side that lost to Chelsea two years ago and head to Istanbul brimming with confidence.
Inter Milan coach Simone Inzaghi said this week: "Saturday's match will be our 57th of the season and the most important. We head to Istanbul with a few defeats behind us which, maybe, hurt us at the moment but which made us grow and improve. We'll need to suffer together and play football well, because we have to take possession of the ball off them. We have to attack with balance. We have prepared for it this week."
Guardiola confirmed that Kevin De Bruyne and Jack Grealish have come through training and are available to play. Kyle Walker missed the first day of training with a back problem.
Guardiola said the midweek news was not good but Walker was improving and he would have to make a late decision. He was involved in media duties while not training and that is a good sign that all might be okay for him to play.
Guardiola admitted that it is not easy to play against Inter's defence. He said: "We have to have a lot of rhythm and be patient. They are going to do it with three, four passes and we have to be ready for that and know the right tempo to play. John Stones has the quality to pass the ball and arrive into attacking positions to control the play. He and Rodri are vital in central midfield."
Stones' recent form has drawn comparisons with legendary greats such as German legends Lothar Matthaus and Franz Beckenbauer. Grealish has a 40 per cent crossing accuracy in this season's Champions League competition and as Guardiola points out, that is the highest of any player at City or Inter Milan.
In general, considering all-round quality and ability, City have to be favourites to win the title but in football you never quite know for certain how things will end.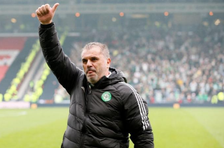 Tottenham gamble on Celtic's Postecoglou
Tottenham have hired Celtic's Ange Postecoglou to be their head coach. Already, voices are questioning the appointment.
Admittedly, the Greek-born Australian has won the domestic treble in Scotland but that hardly measures up against the Premier League, just ask Steven Gerrard, who guided Rangers to the Scottish championship and then lasted only a short time as a top-level manager.
Postecoglou previously managed the Australian national team, taking them to the World Cup finals, Brisbane Roar and Melbourne Victory before coaching at Yokohama F. Marinos in Japan. I am afraid, in my book, none of those achievements equips him to take on Guardiola, Mikel Arteta, Erik ten Hag or Jurgen Klopp in the Premier League.
I must also acknowledge that his style of football will appeal to Tottenham fans. It is high-energy, attacking and exciting. He believes in giving supporters value for their ticket money. His favourite 4-3-3 strategy includes full-backs moving inside to support midfielders, a No 6 behind two number eights and two wingers who stay high up the pitch and move inside to deliver fast balls to a No 9 striker or threatening midfielder. The movement and pace is relentless and he, like Guardiola, believes in playing out from the back.
In a normal week in Scotland, Celtic beat Scottish teams you have probably never heard of; Dundee United, Inverness, Partick Thistle, but it is quite a different challenge walking out with your team at Anfield and facing Liverpool and the Kop!
In reality Celtic won only six of their 20 games in Europe and conceded more than two goals in several games. Arne Slot rejected Tottenham and Daniel Levy and it has given Postecoglou his golden chance.
He won admirers in Glasgow coaching Celtic but he won few friends. He is a loner who does not embrace people. He makes jokes, uses the Australian word "mate" when he finishes a sentence but his manner often comes across as abrupt. Awards dinners hold no interest for him and he prefers the company of his wife and two sons.
Postecoglou will not be loyal to established Tottenham stars he wants out of the club and now that Lucas Moura has gone, Hugo Lloris, Ivan Perisic, Davinson Sanchez, Ryan Sessegnon and Japhet Tanganga will also probably leave.
One thing is for sure, without European football next season, pressure will be on Postecoglou from day one and he will be expected to bring success very quickly.
Kante takes the Saudi cash
Mauricio Pochettino will have to begin his Chelsea reign without one of the world's best midfielders.
N'Golo Kante has been whisked away from Stamford Bridge after agreeing a staggering salary of £86 million (Sh14.9bn) per season on a two-year contract. He will be 36 when it expires. Al Ittihad is one of four clubs bought this week by the country's Public Investment Fund (PIF) who also own Newcastle United.
Kante is following in the footsteps of Karim Benzema, who joined the club this week after a trophy-laden career at Real Madrid. Kante has not yet informed Chelsea but it looks like a done deal.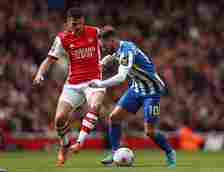 Mac Allister heading for the Kop
Argentina and Brighton World Cup star Alexis Mac Allister will play for Liverpool next season. Jurgen Klopp needs to replenish his midfield and will pay around £50m (Sh8.6bn) for his buyout clause.
The Reds are also watching the situation with Borussia Monchengladbach's 22-year-old midfielder Manu Kone and Khephren Thuram who is also 22 years of age and plays for French side Nice. Celta Vigo's Gabri Viega is also interesting Liverpool but have not made a direct approach for the 21-year-old.
Going the other way, Brighton have agreed terms with Kop favourite James Milner whose contract expires in three weeks.
They are just wild about Kane
Spurs are preparing to fight to hold on to Harry Kane as Real Madrid prepare a mouth-watering bid for the striker. Real want him to replace Karim Benzema, who after 14 years of a distinguished career in Spain, is moving to Saudi Arabia on a free transfer because Real agreed to tear up his contract with one year remaining. Benzema will receive a two-year contract worth £84m (Sh14.5bn).
Kane has a dilemma and needs to decide what he wants next. We know he wants to start putting medals and trophies into his football cabinet. At Tottenham, he has won nothing while being acclaimed as one of the world's top strikers.
He would be interested in a move to Real Madrid but he also wants to break Alan Shearer's 260-goal Premier League record as the leading scorer in the top level. So that rules out a Spanish move unless he changes his ambitions. Tottenham boss Daniel Levy has already said he will not sell his striker to a leading opposition club in the Premier League.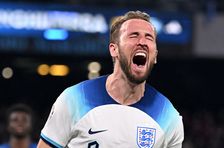 Four weeks to keep Gundogan
Following his man-of-the-match performance in the FA Cup final, Manchester City have been forced to consider extending Ilkay Gundogan's contract, which expires next month.
The 32-year-old captain is a free agent in four weeks and his representatives are allowed to talk to interested clubs. No agreements have been reached but Barcelona, Arsenal and AC Milan have been linked with the German international. Barca are putting together a three-year deal which will help them financially by spreading the cost instead of a big one-off payment.
Pep Guardiola said City director of football Txiki Bergiristain is hoping to persuade Gundogan to stay at Maine Road and the coach said: "He has a special mentality. He knows what I think of him and he plays big games like they are friendlies. He copes with the highest pressures. Nothing is decided yet and we will have to see what happens."
Villa looks at Felix again
Portuguese attacker Joao Felix has been returned to his parent club Atletico Madrid following his unsuccessful loan at Chelsea.
That opens the door for Aston Villa to renew contact with the Spanish club after an initial agreement to sign him failed in December. Agent Jorge Mendes will be handling negotiations and he will offer to sell Felix to Villa.
Villa had originally tried to sign Real Madrid's Marco Asensio on a free transfer but he has opted to join Paris Saint-Germain. Manager Unai Emery wants to improve his squad after Villa qualified for European football for the first time since 2010.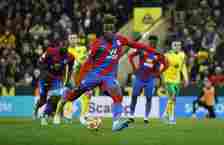 Simeoni wants Zaha at Atletico
Atletico Madrid have enquired about signing Wilfried Zaha from Crystal Palace. Zaha has until the end of June to decide whether or not to accept the latest Palace offer as his contract expires in three weeks.
The Ivory Coast international has long been admired by Atletico coach Diego Simeone, who tried to sign the winger in 2020. Palace have offered £200k-a-week (Sh34.6m) which would make Zaha the highest-paid player in the history of the club.
Saudi champions Al Ittihad have offered a mouth-watering £9 million-a-year (Sh1.5bn) deal after tax. He is known to favour a move to La Liga and Atletico have also qualified for next year's Champions League which is a huge carrot.
Atletico will also sign relegated Leicester's defender Caglar Soyuncu who is a free agent now his contract has expired.
Fred vows to fight
Manchester United midfielder Fred has vowed to remain at the club and fight for his starting place next season. The Brazilian, who played in the FA Cup final, has been targeted by Fulham.
The transfer window officially opens next week. Fred is aware that at 30, he does not fit United's current profile of recruiting young, dynamic midfielders. My inside information is that Erik ten Hag does not consider him a regular starter any longer.
Fred joined United from Ukrainian club Shakhtar Donetsk and has appeared 213 times for United, 56 last season, scoring six goals and making six assists.
Farewell Zlatan, a true star
He lit up the world football stage and it will be a great loss to say goodbye to Zlatan Ibrahimovic, who has announced his retirement. His skill, arrogance, ego and presence on the pitch might never be seen again.
The extrovert 41-year-old always came across as selfish and self-absorbed but if you met him you soon realised that he was loyal, giving and very, very amusing. His fellow players both respected and liked him. One person he disliked intensely is, believe it or not, Pep Guardiola.
He said of him after Inter beat Barcelona in 2010: "There is my enemy, scratching his bald head." He scored a fantastic overhead kick goal from 30 yards against England playing for Sweden in 2012 and when he won the Fifa Puskas Award he said in typical Ibra fashion: "I've scored better goals."