Former Arsenal player, Alexis Sánchez, reportedly asked Mikel Arteta if he could return to the North London club this summer. However, the Arsenal boss rejected the approach as he is looking at other options to bolster the Gunners attack ahead of the 2023/24 campaign as per Chilean newspaper LaTercera.
Sánchez played for Marseille in the 2022-23 season and scored 14 league goals. Despite his impressive performance, it seems that Arteta is not interested in bringing him back to Arsenal.
The Gunners were in a fierce title race with Manchester City in a bid to win the 2022/23 Premier League title. However, a defeat against Nottingham Forest in their 37th game week saw them lose the trophy to The Citizens. Arsenal ended the season with 84 points while Manchester City finished with 89 points. Manchester City are this year's Premier League Champions, and Arsenal will have to settle for second place even though they had led the league table for 10 months this season.
It is clear that Arteta is looking for new options to strengthen his team's attack. While Sánchez may have been a great player for Arsenal in the past, it seems that Arteta has other ideas about how he wants to move forward.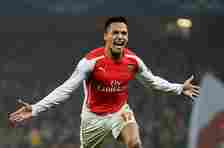 Some Arsenal fans may be disappointed that Sánchez won't be returning to their club, but they can take comfort in knowing that Arteta is actively seeking new talent to improve their chances of winning future titles.
It remains to be seen who Arteta will bring in this summer, but one thing is certain: he will be looking for players who can help take Arsenal back to the top of English football.
In conclusion, while Sánchez may have asked to return to Arsenal this summer, it seems that Mikel Arteta has other plans. The Gunners will be looking for new talent this transfer window as they aim to win future titles and compete with Manchester City for Premier League supremacy.